Andrews Fasteners innovating market of Stockists and Distributors of Industrial Fasteners

We have have revolutionised how bolts are packed, presented and delivered to Construction Companies UK and Worldwide.
Now our innovations are changing other industries.
---
Recyclable Bags and Labels

Both, our bags, and labels are fully recyclable.
---
Colour coded bags for fastener diameter identification
Colour denotes bolt diameters
Easily identifiable on site
Health & Safety benefits (Design Best Practice)
Saves time on site!
Weatherproof Non Tear Labels
Shows customer order number
Customer on site phase numbers, if required
Full description of the product
Batch number for traceability
Label is non-tearable and fully weatherproof
Saves time on site!
Colour coded labels for fastener finish identification
Orange, Hot Dip Galvanised HDG
Blue, Zinc Plated BZP
Pink, Sherardized
White, Self Colour or other
---

Diameter & Length Stamped on Bolt Head
Ensures correct diameter used in connections
Ensures correct length used in connections
Saves time on site!
---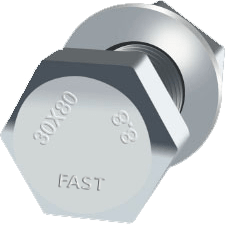 Fully Assembled Bolt, Nut & Washer
Prevents shortages (nuts & washers)
Minimizes handling
Saves time on site!
---
Pallet Sheets
Details all relevant order information
Site and delivery information clear and visible
Saves time on site!
---
Declaration of Conformity (Certificate of Conformity) and Test Certificates
(including Declaration of Performance for CE & UKCA marked products)
Declaration of Conformity (Certificates of Conformity) for all products (2.1 Test Certificate)
In-House test certificate to BS EN 10204 (2.2 Test Certificates)
Full chemical & mechanical test certificates to BS EN 10204 ( 3.1 Test Certificates ) and independently verified 3.2 (subject to availability and minimum manufacturing order quantity)
UK's largest traceable stock of construction fasteners
Fully traceable products